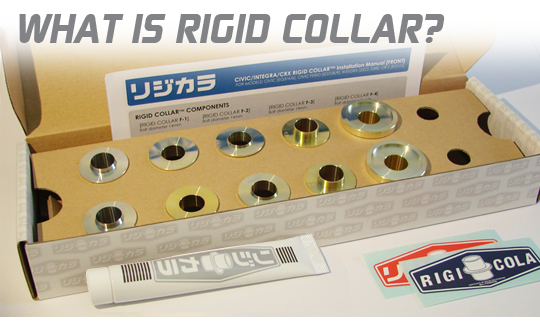 RIGID COLLAR™ is an original part developed by SPOON to increase vehicle body rigidity by connecting the sub-frame components to the monocoque.
When vehicles are manufactured in the factory, many components are given oversized bolt recesses (holes) to allow for fast and easy installation on the assembly line. The components are aligned and tightened to specification and the vehicle is ready for the consumer.
Instantly that any new car is driven, it becomes subject to shocks and vibrations which place force on all components and can create movement and even distortion resulting in compromised function of the individual components of the vehicle.
Over time and mileage, these components are subjected to a compounding effect of these forces and this can lead to increased vehicle harshness and even component failure in extreme circumstances.
The different materials that these individual components are made from also presents uneven wear and distortion additionally contributing to subframe and component movement.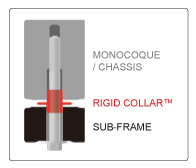 The RIGID COLLAR™ device(s) are simplistic in design and construction and engineered to be the perfect solution for the above mentioned issues.

RIGID COLLAR™ is relatively simple to install, with the device(s) being placed between the sub-frame and the monocoque (and other components) and can be performed in only a couple of hours depending on application.
After positioning RIGID COLLAR™ in place, tightening the subframe bolt (to factory torque settings) pulls the tapered edge of the collar into place creating perfect alignment of the components.
The RIGID COLLAR™ not only eliminates any space between the sub-frame and monocoque by deforming the flange, but the inner part of the collar also sandwiches the sub-frame bolt perfectly central within the recess / bolt hole further strengthening the bond between the sub-frame creating the effect of a solid-core .
When subframe components are removed from the vehicle, it is very common to see as much as 4mm movement in any direction. This is made apparent by scraped 'ring' marks and if any corrosion/rust is visible, this is also an indication that there is a gap that is large enough for moisture to build up.
This subframe movement (backlash) encourages shock to transfer from suspension, steering and other components directly through the chassis, preventing each component from performing it's specific function independantly.
Any backlash that existed prior to installation should now be eliminated, allowing individual suspension, steering and braking components to function free from any phase delay or shock transfer. This creates a 'pillow' feeling as the ride and response of the vehicle is now greatly improved and the reduction of shock also reduces the NVH level (Noise, Vibration and Harshness).